Scrumptious Korean Fried Chicken Recipe using Musoffa Honey
Korean Fried Chicken Recipe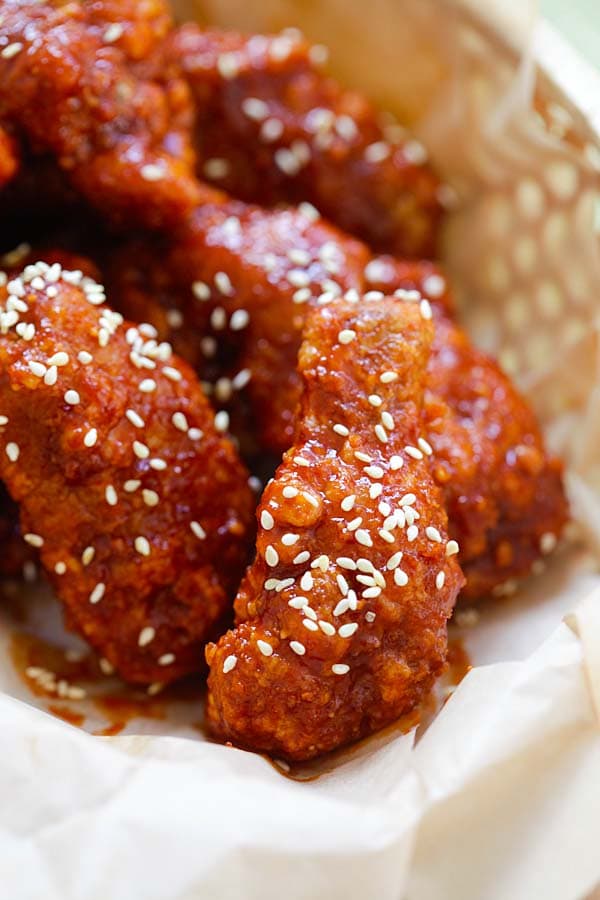 Korean Fried Chicken – the BEST Korean fried chicken recipe that yields crispy fried chicken in spicy, savory and sweet sauce. Finger lickin' good!

Course: Main Course

Cuisine Korean

Keyword Korean Fried Chicken

Prep Time 10 minutes

Cook Time 20 minutes

Total Time 30 minutes

Servings 3

Calories 572 kcal

Ingredients

0.5kg chicken wings drummettes and wingettes

Salt 

Ground black pepper

1/2 cup potato starch

Oil for deep-frying

White sesame for garnishing
Dressing:
2-3 tablespoons Korean red pepper paste

1 tablespoon apple cider vinegar

1 tablespoon hot water

2 tablespoons Musoffa Honey

1 tablespoon soy sauce

Instructions
Season the chicken with some salt and black pepper, then coat well with the potato starch. Set aside.
Combine all the ingredients for Dressing together, stir to mix well.
Heat up the oven, deep skillet or pan with 3 inches of oil. Heat the oil to 375F. Coat the wings again and shake off the excess potato starch. Drop the wings gently into the oil and deep-fry until light brown or when they are cooked and become crispy. Remove the wings from the oil and drained on paper towels. Combine the Dressing and the wings, toss to coat well. Garnish with the sesame and serve immediately.
---