Berry Frozen Yogurt Bites with Musoffa Honey Granola
BERRY FROZEN YOGURT BITES WITH MUSOFFA HONEY GRANOLA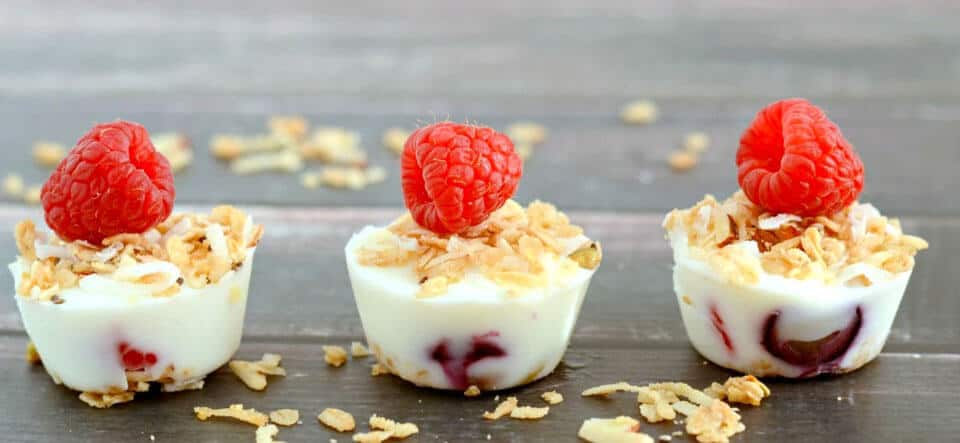 YIELD: Makes 24 bites

INGREDIENTS
2 cups - Greek yogurt
1/4 to 1/2 cup - milk
3 T - honey
For the jam:
2 cups - mixed berries
1/4 cup - Musoffa 100% Pure Natural and Raw Honey
For the granola:
2 cups - old fashioned rolled oats
3/4 cup - nuts of your choice, chopped
3 T - coconut oil, melted
3 T - honey
1 tsp. - vanilla extract
1/2 tsp. - cinnamon
pinch - salt
DIRECTIONS

For Granola: Preheat oven to 350°F.

In a bowl, mix together the oats, nuts, cinnamon, and salt. Stir in the oil, honey and vanilla extract until well combined.

Spread mixture onto a baking sheet.

Bake for 10 minutes, then stir. Return to the oven and bake another 7-10 minutes or until granola is golden brown.

Scrape the pan as soon as it gets out of the oven, then leave on the baking sheet to cool.

For Jam: Combine the berries and the honey in a saucepan and bring to a boil. Reduce heat to an active simmer, and continue to cook for 8-10 minutes, or until berries are thickened and jam-like.

Cool to room temperature or refrigerate overnight.

For Bites: In a bowl, whisk together the Greek yogurt, milk, and honey until the mixture is pourable but not runny. Gently fold in the jam so a swirl remains throughout the yogurt, or if you prefer, mix completely together.
---